Printing on natural fabrics and knitted fabrics
Natural print fabrics with the GOTS certificate

GOTS - the Global Organic Textile Standard is the world's leading standard for textile certification. The certificate includes all stages of the production of products made of natural fabrics - from cultivation, weaving process to finish the material.
The origin of fibers according to the GOTS standard should be natural, and the cultivation should be carried out using ecological methods without the use of pesticides and unnecessary chemistry.
It is the best certificate that includes all stages of the production of products made of natural fabrics (from raw material to finished product). To receive the GOTS certificate, it is necessary to meet very stringent environmental criteria based on relevant international guidelines.
Besides, the products should not contain any materials produced using GMOs.
In the GOTS standard, an important role has proper water management. Producers are obliged to use a sewage treatment plant and closed water circulation. It is particularly important in the case of fabrics such as linen and cotton, which are produced with a large proportion of water.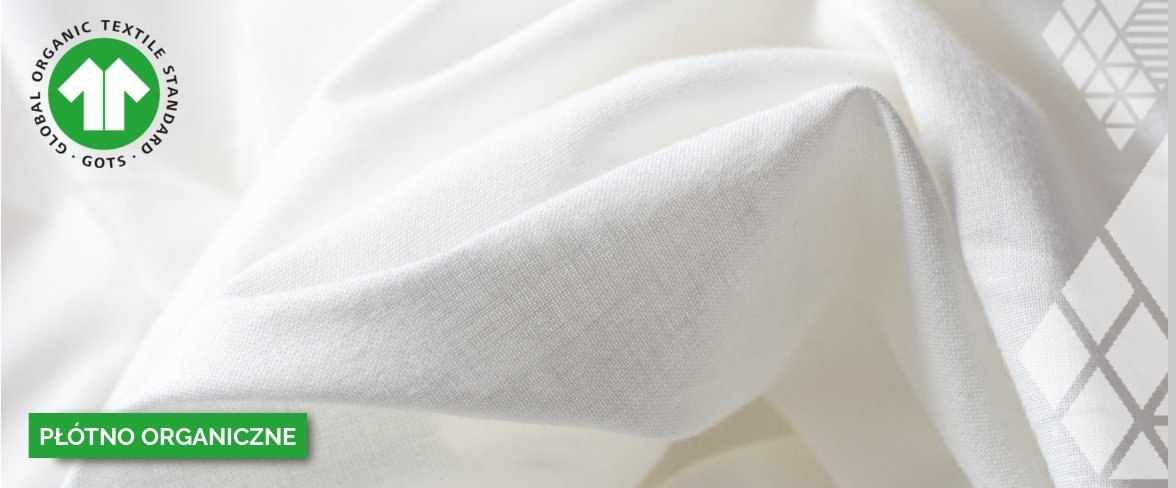 Printing materials with OEKO-TEX Standard 100 certificate

Fabrics certified with the Oeko-Tex mark are safe for man and the environment. This certificate confirms the purity of the material at all production stages (fibers, yarns, fabric). Materials labeled with this symbol do not contain harmful substances that may threaten the life or health of a human. In tests, the certificate includes, among others, substances such as pesticides, formaldehyde, chlorophenols, allergenic dyes, forbidden azo dyes, and extractable heavy metals.
Inks
The print we offer is made with water-based pigment inks; they are completely free of heavy metals, formaldehyde and alkylphenol ethoxylates (APE), which makes them harmless, non-toxic and biodegradable. The process of printing inks that are biodegradable and without the use of water makes our printing an environmentally friendly solution.
Water
The most important environmental risk factor in textiles is water pollution. The amount of wasted and polluted water is staggering.
In conventional textile dyeing and printing processes, the amount of water used in this process can fill the Mediterranean every two years!
Therefore, digital printing goes towards reducing the negative impact on the natural environment.
Pigment printing technology in the printing system we use does not require pre-treatment, cooking, evaporation or washing. We do not even use a gram of water in the printing and recording of the print process!
Environmental protection is not only a trend, it is part of our strategy.
Through constant innovation, customization and commitment, we try not only to meet constantly changing standards but to exceed them.
One of our most serious obligations is to follow new research in the field of fabric production, printing technology and public campaigns regarding the impact of dyeing and printing companies on the environment. We strive to reduce the participation of our company, our partners and clients in the environmental pollution that surrounds us.
Digital pigment printing is an environmentally friendly, cost-effective and high-quality printing option on textiles.